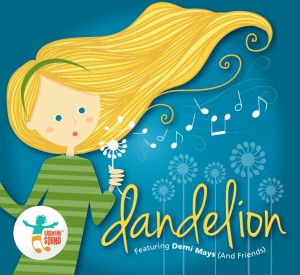 CREATIVE CHILD MAGAZINE recently announced that DANDELION (featuring Demi Mays (and Friends), with music and lyrics by David Kisor) published by GROWING SOUND has been named 2015 CD of the YEAR (Kids CD Category). Creative Child Magazine is a national bi-monthly publication that provides parents with the latest information on how to nurture their child's creativity. With departments such as Kids at Play, Health and Safety, Discovering Creativity, Nurturing Talent and Tomorrow's Child – Investing for Your Child's Future. Creative Child Magazine is one of the most complete parenting publication for raising well-balanced children.
This is the 4th time GROWING SOUND has received this industry award from Creative Child Magazine. (2010-I CAN SETTLE DOWN, 2011-IMAGINATION GENERATION, 2012-BECOMING MY OWN ME).
DANDELION is also the recipient of the 2014 Mom's Choice Award-Gold, 2014 Family Review Center Award-Gold, 2015 NAPPA HONORS Award and the 2015 Tillywig Toy and Media Award.
Dandelion can be purchased through CDBaby, iTunes, Amazon, SongsForTeaching.com, TeachersPayTeachers and other retail and digital outlets. It is distributed to the retail market by Allegro/New Sound Kids.
The music from DANDELION is featured in our latest professional development training: MUSICAL MOMENTS FOR ME AND YOU: Songs of Shared Attention with Children Ages Two and Up (presented by David Kisor). DEMI MAYS is also available for school and library performances in OH, KY, IN, WV and TN.