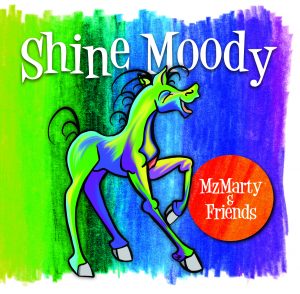 Covington, KY, September 5, 2018-GROWING SOUND, a children's music publisher that creates songs based on the latest research in social and emotional development, is pleased to announce a new interactive program titled SHINE MOODY.
The SHINE MOODY program stems from a partnership with Lexington (KY) based children's author: MzMarty, and her book titled 'Mr. Moody's 1st Birthday'. The story is about a newborn racing horse that learns to express his emotions in a unique and colorful way. When children can't find the words to explain how they feel, Mr. Moody races in to encourage them to color, talk, sing, and laugh about their moods, feelings, actions and behaviors.
The SHINE MOODY program is an interactive program created for schools, libraries and after school programs that serve children PreK-Grade 3. The 60 minute program includes a live narrative reading of the book, a music concert with singing, dancing and movement presented by Growing Sound artist; Demi Mays, and an arts activity. In addition, the host venue receives a full resource package (including autographed book, activity book, color and contemplating book, and a digital download card featuring audio book and music by MzMarty & Friends.) The music features a song titled Shine on Through (Moody's Song) by award winning composer, David Kisor.
SHINE MOODY brings "Mr. Moody" to life through arts and literature!
Contact GROWING SOUND to schedule your event: growingsound@childreninc.org (859) 431-2075 x116
To learn more about MzMarty & Friends visit MzMarty.com
GROWING SOUND is the social enterprise division of Children, Inc.(a 501 (c)(3) non-profit) based in the Greater Cincinnati area.
Contact: Alyson Bleistine: Director Sales & Marketing (859) 431-2075 x116 growingsound@childreninc.org