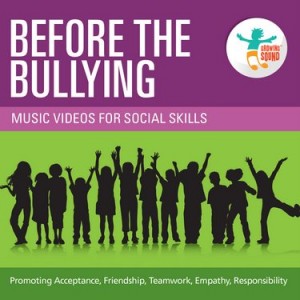 GROWING SOUND, a children's record label, and publisher, based in the Greater Cincinnati area is pleased to announce the release of a new DVD titled BEFORE THE BULLYING: Music Videos for Social Skills. This DVD contains six (6) music videos promoting acceptance, friendship, teamwork, empathy and responsibility. The songs selected for this project stem from two award-winning CD projects titled TAKE CARE and EVERYONE IS SOMEONE featuring David Kisor (And Friends).
Just as children are inoculated in their early years against later illness, so too does the development of early social and emotional skills provide a "vaccine" against later behavioral problems such as bullying. These music videos support teachers' and parents' efforts to give children the necessary skills to later become a good friend, student, spouse, parent and citizen.
The children (ages 9-17) represented in the videos are not professional actors. They are students from a variety of communities throughout the Greater Cincinnati/Northern Kentucky area. These are children who made a choice to take an active role in bullying prevention through their involvement. The videos will be available for viewing on YouTube, Vimeo and other popular sites.
The DVD (and the CDs) will eventually become part of a larger project scheduled for release later this year titled BEFORE THE BULLYING: A Multimedia Positive Social Skills Program. This program will include an After-School Component, a Classroom Component, and a Performing Arts Component. In addition, GROWING SOUND will offer teacher training workshops on how to implement these songs and supplemental resources in an effort to promote positive social and emotional learning and character education. School assembly programs/concerts will also be available. While October is designated as National Bullying Prevention Month, GROWING SOUND hopes that these resources will continue to promote positive social skills throughout the year. This project and the coordinating components will be available through GROWING SOUND, CDBaby, Amazon and other retail market channels.
GROWING SOUND is the social enterprise division of Children, Inc. GROWING SOUND develops music and other products that translate key findings from recent child development research into practical and entertaining products for teachers, parents, and children. GROWING SOUND products stimulate social and emotional development in a way that is fun for children. While many products focus on managing children's behavior
problems, GROWING SOUND is a proactive, strength-based approach to helping children discover the goodness in their lives and within themselves. For more information visit www.growing-sound.com
Contact: Alyson Bleistine: Director Sales & Marketing (859) 431-2075 x 116 growingsound@childreninc.org